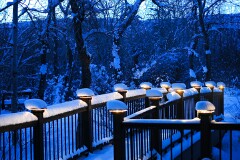 Your deck is an extension of your home. Selecting the right accessories can make your exterior spaces as livable as any of your indoor rooms. Listed below are some of the more common deck accessories.
Lighting - the most common, and most cost effective, deck accessory. A wide variety of lighting options are available to enhance the mood of your deck.
Post Caps - another relatively inexpensive accessory that creates a customized look to your deck. These may incorporate lights.
Benches - add extra seating that blends nicely into the deck's design.
Planter Boxes - flowers and plants bring beauty and life to your deck.
Wind Chimes and Fountains - both add soothing sounds to your outdoor living space.
Outdoor Grills - safely bring cooking to your deck.
Deck Heaters - allow you to extend the season for enjoying your deck.
Deck Inlays - a relatively inexpensive way to give your deck some character.